The Clicks Per Action (CPA) model of marketing resolves a common complaint from marketers about affiliate programs . . .many times they end up promoting whoever is selling the affiliate product without getting anything in return. This happens a lot when an affiliate marketer promotes a program and sends his/her audience to the vendor, but few of these visitors then actually buy anything.
A fair amount of online shoppers visit a site several times before deciding to make a purchase. This is a problem for affiliates because if the visitor bookmarks the vendors site and returns to that, while skipping over the affiliate site, the vendor ends up receiving traffic, brand promotion, and potentially revenue for free.
One of the best solutions to this problems is the recent trend in offering affiliates the opportunity to earn commissions without the visitors needing to make any type of purchase. This can be best described as a clicks per action model, in which affiliates earn commissions for referring potential customers to the vendor. Usually the commission is earned when the visitor requests a free trial or sample of the product. Others pay for visitors to complete an opinion survey or for referring email addresses for a free newsletter.
The main advantage of these types of programs is that visitors aren't required to actually purchase anything so the conversion rates are much higher. It's estimated that from 10 to 30% of click-throughs from an affiliate will result in a commission.. .because people are much more willing to request a free trial or sample on their first visit to a web site than to spend any money.
=================================================
Every Successful Internet Marketing Campaign Depends on Traffic
Create Hordes of Traffic with Traffic Geyser
Learn CPA and PPC from the Best….Perry Marshall
=================================================
Another advantage with using CPA offers is that you can easily add value to your web site by offering people free trials on related products. If you have an informative and solution-solving website, it only makes sense to offer free solution-solvers as well.
One aspect of the CPA model that you need to recognize is that the commissions are not as high as those using a pay per sale model. But this is easily offset by the fact that you will get many more click-throughs.
It's important with CPA marketing that you look at the conversion rate, just like with everything else. You want to look at the click through rates of whatever marketing you are using (banner ads, text links, etc.) and which ones of those generate a commission for you.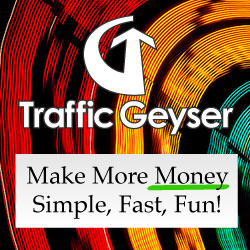 CPA offers outperform most other pay per sale programs simply because no sale is required. There is nothing secret or magical about getting commissions this way. You get paid when people request free samples, trials and club memberships. And this is much easier for most marketers than waiting to get paid until a sale is actually made.
It's time for you too to start getting more clicks per action. . . and more money in your pocket.